With patent applications growing in 2020 in spite of the global pandemic, Aalbun explores three reasons why for European patent holders, now is the time to be tracking and opposing your competitor's patents.
To monitor your competitors and take action, try Aalbun's brand new Oppositions Monitoring tool. Head to monitor.aalbun.com to get started.
During the pandemic crisis of 2020, the number of patent applications filed increased by 5% compared to 2019. While some predicted this (including us), this will come as a surprise to many. If anything, it is a pleasing sign that innovation has not been compromised – even in a time of crisis. But since competition is increasing, so too will innovation and this means that securing the freedom to operate in your target market will be vital to every companies' innovation strategy. Here's why:
1. Stay in the game
It's the question that keeps (or should keep) inventors and business owners up at night: what happens to your product or company if you're unable to sell?
And with that in mind, business owners should always have the mindset that a competitor is just on the horizon with a patent that will have an impact on your ability to continue selling your current or commercialise a future product.
The risk of not monitoring competitors is too great as other disgruntled patent owners will seek not only to stop you from selling your products but also request damages for their loss of sales. Few businesses could afford such a double whammy so this safety-first approach is not only wise but is necessary from a financial perspective.
The risk is especially great for smaller companies who are reliant on a few innovative ideas and products to generate revenue. Litigation is expensive and can leave a business bankrupt as well as eliminated from the competition altogether.
To prevent the unthinkable from happening, it makes sense to be constantly monitoring and analysing competitor's patents so you can ensure your business has the freedom to operate.

2. Keep your cards close to your chest
Filing oppositions to patents is not just a means to an end, it can also be used as a bargaining chip. This could be in the form of future negotiations around licensing agreements that relate to other patents owned by the same patentee or just the threat of an opposition that is sometimes enough to exert pressure that can result in a more favourable outcome when it comes to the final verdict. The avoidance of protracted and messy litigation processes obviously keeps costs down so again there is the financial incentive to avoid future courtroom pain.
But what if you're worried about revealing your identity to a competitor in an oppositions process? Thankfully, oppositions can be filed in the name of a strawman which means the party filing the opposition can conceal their identity, which is often commercially important. So when it comes to opposing a patent, the power truly lies with the opposer.
Overall the oppositions process is, generally speaking, faster, simpler and cheaper than revoking a patent after it had been granted.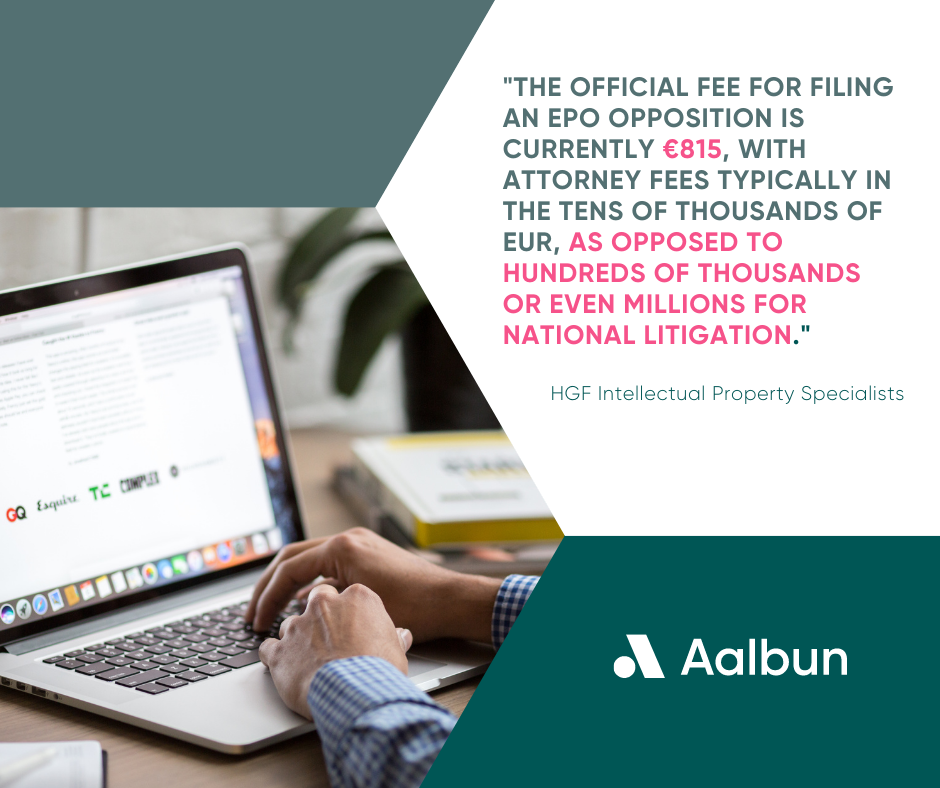 3. A one-stop shop
As well as giving companies leverage, another benefit of opposing European patents is that the process is significantly easier than waiting till after the oppositions period has expired.
The centralised process of oppositions used by the European Patent Office offers a means by which one can invalidate a patent in one place. The ease of this process means companies can avoid the risk of missing the opposition window which then means relying on the courts if further action is pursued; a route that not only depends on the national jurisdiction (which are by their nature inconsistent) but also means opposing patents in each country one-by-one instead of as a group and the result can be costs that are ten to a hundred times higher.
Patent holders should also factor in the high chance that they will successfully block a rival patent if they go down the route of opposition. According to the World Intellectual Property Review, in 50% of cases, an opponent achieves either complete revocation or at least a significant limiting of the patent.
To monitor your competitors and take action, try Aalbun's brand new Oppositions Monitoring tool. Head to monitor.aalbun.com to get started. Below are some instructions to help you use the tool.