As an entrepreneur, I am fascinated by innovation. That is why a recent IAM article on the potential for a significant drop in patent filings this year caught my eye. In line with the prevailing sentiment, the author gloomily forecasts a decline of between 10% and 20% in global patent applications – a key metric of innovation levels – in 2020 versus 2019. I strongly disagree. Here's why.
When crises hit, our initial instinct is to panic. That is why, in the face of the coronavirus pandemic, consumers have stripped supermarket shelves. It is why nation states, which would ordinarily be amicable trading partners, have deployed underhand tactics against each other to ensure their supplies of emergency equipment are well stocked. Panic is not a completely unjustified response – the socio-economic impact of the coronavirus will be colossal and it is likely we will be grappling with the far-reaching consequences for many years to come.
But my prediction is that within a short distance from where you are reading this article, there are several businesses reconfiguring their service offerings. Others will be streamlining their supply chains or developing a remote working policy. And a handful of companies will even be creating new products to help combat the coronavirus health crisis head-on.
On a scale that hasn't been seen since World War II, governments have asked manufacturers to produce different products to the ones they ordinarily make; and in every corner of the globe, businesses have responded with enthusiasm. Here in the UK, for example, a government-backed ventilator challenge consortium saw over 30 companies participate, including global giants like Microsoft, Rolls Royce and Unilever, as well as a number of Formula 1 teams. It resulted in household appliances brand Dyson developing a respiratory ventilator in just 10 days (although it has yet to receive regulatory approval).
Unsurprisingly, the world's pharmaceutical industry is under intense pressure to find a cure or treatment. But the way in which companies in the sector have come together is astonishing. AstraZeneca is working with rival GSK and the University of Cambridge on a joint project to develop a new lab in the town. Meanwhile, Clover and GSK have joined forces to develop a vaccine for the virus.
How crises impact innovation
The World Intellectual Property Organisation provides historical data pertaining to annual growth of patenting since 1833, the tail-end of The Industrial Revolution. During the 187 years that followed, in only seven instances did patenting levels fall. And when they did, they very rapidly bounced back. In fact, the growth of intellectual property has been remarkable, with the number of active patents booming from 50,890 in 1833 to more than 3.3 million in 2018.
Crises, in whatever form they emerge, present us with a unique set of conditions and offer a rare opportunity for individuals to think differently, while prompting companies to pivot their strategies in order to ensure their own long-term survival.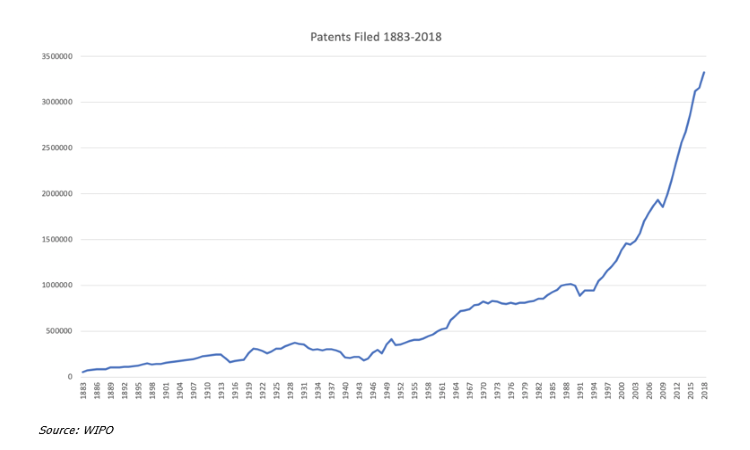 True problem-solving
Problems of a global nature demand inventions to match. It is well documented that the Black Death of 1348 spurred levels of innovation across the arts, business and medicine. It prompted a shift from grain farming to animal husbandry, which had a huge impact on the European economy. The pandemic also gave birth to the phenomenal Decameron by Boccaccio which later inspired Shakespeare. It gave way to an improved business environment with more efficient practices, as well as a newfound interest in anatomy and surgery.
Perhaps the only comparable pandemic to the coronavirus in recent history is the Spanish Flu which, between 1918 and 1920, ripped through countries and communities at astonishing speed. Nonetheless, patenting activity significantly increased by 3% in 1918; 38% in 1919 and a further 21% in 1920. This can be explained in part because, during a crisis, individuals feel an obligation to innovate. United around a common cause, they are more likely to think about problems and share their thoughts on how to overcome them.
The power of collaboration
As we have witnessed since the outbreak of the coronavirus pandemic, organisations have been surprisingly willing to realign their teams, factories and product strategies. We have also seen companies respond positively to calls to share their intellectual property. To this end, Intel Corporation, the world's leading semiconductor and electronics manufacturer, opened up its global portfolio of over 72,000 patents in response to the Open Covid Pledge and the likes of IBM, Facebook, Amazon and Microsoft have now done the same. This has been followed by Harvard, MIT and Stanford's announcement of their joint approach to handling IP during this crisis, and, most recently, Oxford University's announcement for expedited access for covid-19 related IP.
As part of the Cambridge technology scene, I'm proud to note that the University of Cambridge is at the leading edge of these collaborative developments. Recently, I had an inspirational conversation on the topic with Doctor Frank Tietze, a fellow at the Wolfson College who focuses on innovation management. He has recently published an academic article, Crisis-Critical Intellectual Property: Findings from the COVID-19 Pandemic, which analyses a number of collaborations across the public and private sectors.
"It is clear that innovation activity is currently going through the roof, especially in industries that are related to providing solutions for covid-19, but also more broadly as companies are innovating to adapt to the changing environment," says Dr Tietze. He notes that what's driving such high levels of innovation are newly formed collaborations, which he thinks will last well beyond the pandemic.
New ways of doing business
At the beginning of this article, I referred to a sense of panic that set in following the global spread of the coronavirus. Yes, supermarket shelves were bare for a short time, but retailers quickly innovated to strip away unnecessary levels of bureaucracy and create new ways of managing their inventories. Sure, nation states became unnerved when looking to stockpile essential equipment. Then again, companies from all kinds of industries have thrown all their resources at developing protective gear for health workers at extraordinary pace and scale. Moreover, at the heart of our response to the coronavirus is something inspiring: we have come together to create in order to tackle huge challenges and, in doing so, we're likely to permanently alter the ways in which we consume, problem-solve and collaborate.
We are living through a crisis. We are facing difficulties on multiple levels and the decisions we make to combat them could mean the difference between life and death. While this is daunting, it has forced us to adopt a different approach to problem-solving and this means drawing on imagination, ingenuity and our capacity for innovation. Unlike during other crises of a similar scale, today we live in a globalised world. While this means the covid-19 virus spreads quicker, so too do ideas. Therefore, the power of innovation and the potential for collaboration is multiplied many times over.
While we are naturally witnessing slowdown in activities with some multinationals, others are now tackling their backlogs of IP work and increasing their levels of activity. Additionally, we see well-funded scale-ups actively filing more patents regardless of the situation. I firmly believe we will innovate our way out of this crisis. If I am correct, then there is no reason patenting levels should drop.
If the coronavirus pandemic has anything close to a silver lining then, it's that individuals and companies will become more socially responsible, more innovative and more collaborative than ever before. This is why my prediction is that we will see growth in patent filings in 2020 and into 2021.