In our latest Aalbun Expert Discussion — Promoting Innovation in a Corporate Environment, we spoke to industry heavyweight Thomas Hedberg, Director at Konsert Strategy & IP and former Interim Director for Patents at Volvo and Vice President of Global IPR at Sony Mobile, to break down what he sees are some of the challenges, solutions and examples of corporate innovation.
One of the key ideas to emerge from our first Expert Discussion was the notion that as companies become more successful they find it harder to maintain their cutting edge when it comes to innovation. This is to be expected. When you find a product or service that works, it can be easy to get carried away by the success of it and slip into a comfort zone – not the place you want to be if you wish to keep evolving and moving forward as a company.
So how do those successful companies avoid that trap? What are the challenges they face along the way and how can they overcome them? And then what role does digitalisation have to play in all of this.
Let's start with some of the challenges.
Never compromise on innovation
Looking at the current situation we all find ourselves in, perhaps the most obvious challenge to innovation are crises. The pandemic has plunged most of the corporate world into crisis mode and with that comes hard decisions; particularly when it comes to budgets.
Cost-cutting is the name of the game it would seem. But is this the right path to take? Not according to Thomas.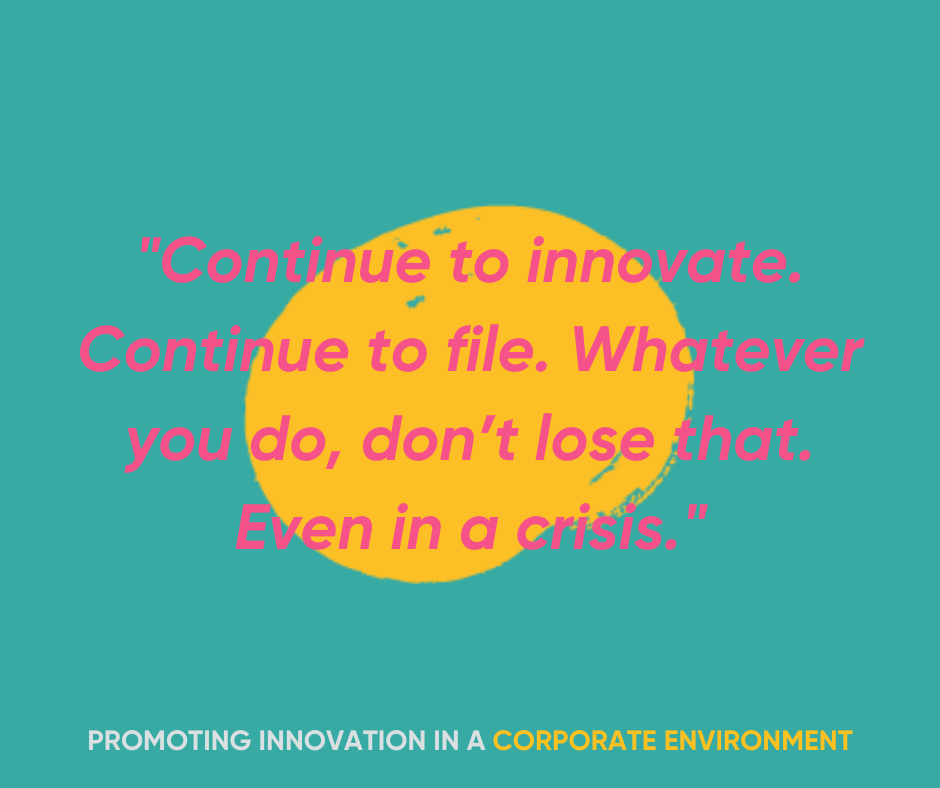 As Thomas went on to explain, it's easy to stop innovating and cut costs, but in doing so companies can lose the ingrained innovative culture that they have spent years cultivating and that brought them their initial successes and rebuilding it is an onerous task.
In some ways a crisis such as the one we face now can actually refocus companies and inspire them into new ways of thinking and operating. It just so happens that Aalbun recently helped Cambridge Mask Co. secure global protection for their military grade facemask – an undertaking that was accelerated by the pandemic.
Think strategically
The key to overcoming these innovation challenges is to think strategically. This means prioritising innovations or as Thomas says "not being afraid to let things go". And when it comes to prioritising, the approach should be to understand what technologies will shape your industry or sector and use them to guide your wider IP strategy. Without the guiding hand of a joined up technology and IP strategy, ideas can easily be lost or teams within an organisation can end up pursuing a set of conflicting priorities.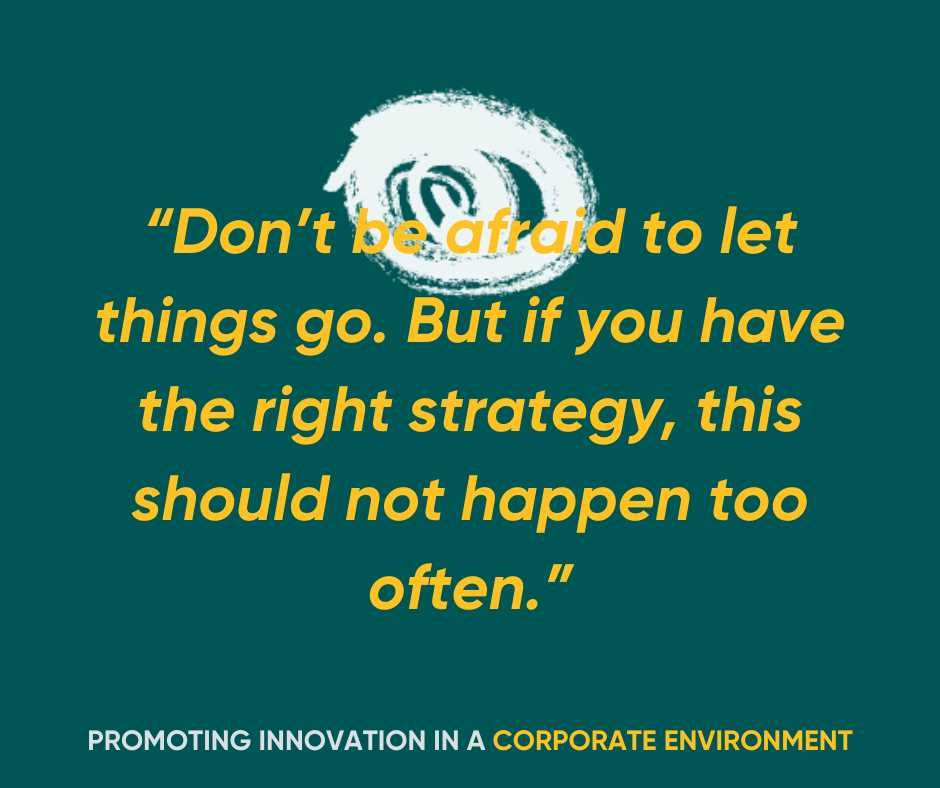 That being said, it is important for companies to constantly review their technology and IP strategies. It would be foolish for a company to presume that they will land on the ideal strategy first time. As Thomas highlights, it is a constantly evolving process that will take iteration after iteration to perfect.
Treat your ideas as assets
This leads to the question of which companies have successfully maintained their levels of innovation despite their success and how? Let's look at two examples.
First, in his role on the executive board of a large consulting firm, Thomas set up an innovation lab that allowed any employee in the company to spend 8 hours developing an idea before presenting it to a board whose job was not to shoot down the idea, but to see if they could make it work. The results were emphatic. Within the year, they had four products ready to go to market that were a direct result of this innovation lab. The lesson here is that ideas should be treated as assets that should be nurtured and iterated upon, rather than killed at a nascent stage. If no one looks after the ideas, people will stop putting them forward.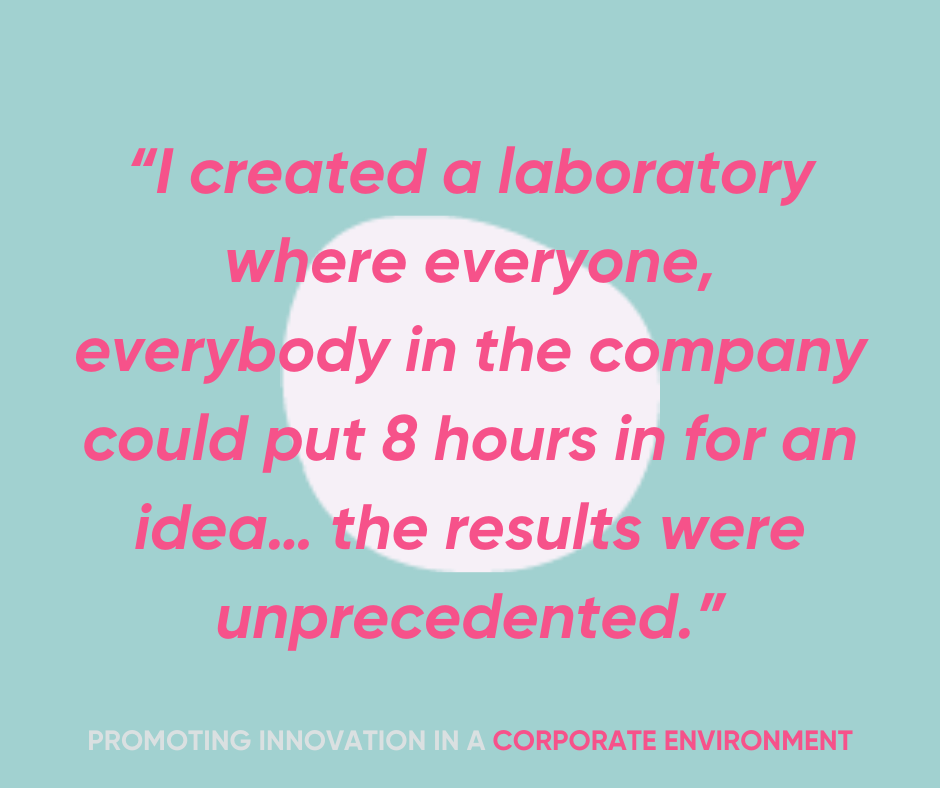 The second example relates more to something else Thomas earmarked as a key component of successful corporate innovators: leadership and culture. The company that arguably showcases these values best is Amazon.
In terms of leadership, whether it's creating entire innovation teams or appointing a CIO or CTO, there must be accountability for innovation. At Amazon this runs right to the top of the organisation with CEO Jeff Bezos taking on the responsibility of determining the innovation roadmap. Central to Amazon's innovative culture is what Bezo's calls a fail fast strategy that like Thomas's innovation lab, encourages people to ask "why not?" as opposed to "why?" when presented with an idea. This mindset then permeates the rest of the company and leads to the creation of an innovative culture.
Think digitally
So where does digitalisation fit into all of this?
It has been high on the agenda for most companies for some time, but it has accelerated recently with the pandemic forcing us to utilise technology in new and innovative ways. Look at the way companies of all shapes and sizes have embraced Zoom meetings and virtual conferences as a reaction to the pandemic. Software as a Service (SaaS) is another example of how digitalisation is firing innovation. It has allowed companies to thrive by offering a tailored subscription, rather than a one-size-fits-all model, thus opening a new way of monetising a service. In the long run, it could even minimise the need to cut costs.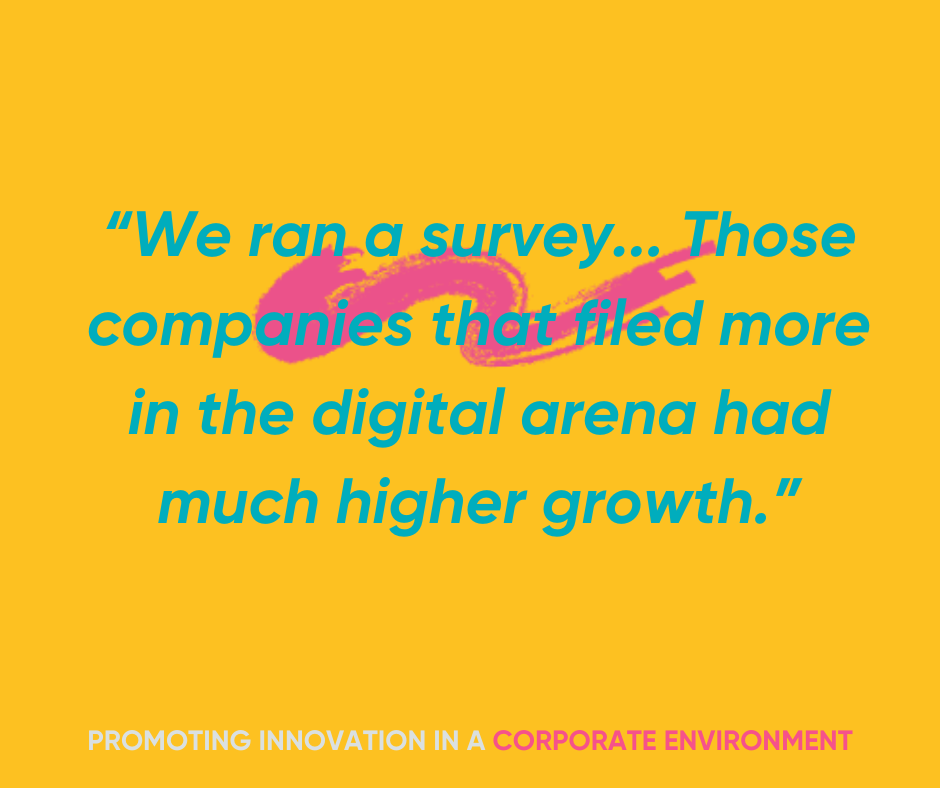 Interestingly, Thomas explained that a survey run across the Forbes 2000 companies by a previous company of his, showed there was a strong link between higher growth and patent filings in the digital arena.
The IP and legaltech spaces are notoriously slow to adapt and embrace digital solutions (we should know!), and recent events could act as a wake up call for an industry that has been resistant to the wave of innovation that digitalisation can bring.
For more insights, visit our website and watch the full discussion here.